Danish version of this article
You might have read my previous Oura Ring article, here, where I discussed my own experience with the ring after 5 months of use. I had a few frustrations, namely that I couldn't see my tracking in real time, or get feedback after a workout.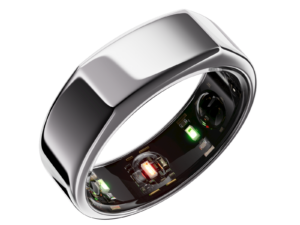 The new Oura Ring Generation 3 addresses all that and more. And, it puts women's health up front, with period tracking as a primary feature.
What's the Oura Ring?
The Oura Ring is a wearable in the form of a ring. You might have seen other wearables which are smart watches, fitness bands, or stand-alone apps.
The Oura Ring has sensors inside the ring, which monitor your heart rate, temperature and movement throughout the day and especially at night
The ring was marketed to help monitor your sleep, and thereby, help you get better sleep by being informed about your sleeping patterns.
As a person who invested in getting themselves an Oura Ring, I appreciate that it is simply a ring. No blinking LEDs, no rubber band, just a classy, subtle ring. Unless I tell people, most have no idea that I'm wearing a smart product which measures my vitals.
For me, this is important – jewellery speaks to identity and while I want to be healthy and aware of what is going on in my body, I don't personally want to look like a cyborg, not yet anyway.
What's new in this version?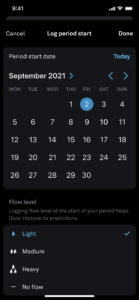 The new Oura Ring has been significantly upgraded in terms of what it senses and how it reports this data. The main upgrades include:
Daytime Heart Rate: Giving you real-time data on your heart rate so you can see how it is affected by various events throughout your day. (Previously you had to sit very still for a minimum of 5 minutes to see your heart rate trend, the "Take a Moment" feature).
Workout Heart Rate: You can see your heart rate in real time via the app, and see insights after your workout.
Enhanced temperature sensing with 7 temperature sensors (in the previous ring, there was only 1 temperature sensor): Especially during these last couple of COVID years, our need to know our temperature has been a priority. While the Oura Ring has always tracked temperature (an important factor of sleep) now it gives a better insight into things like when you might be getting sick, or when you might be getting your period.
Period prediction: Many wearables today offer some kind of period-tracking where you can track your cycle in the app associated with the wearable. Due to the enhanced temperature tracking of the new Oura Ring, the wearer can now see when their temperature rises or dips. This data can be used to predict when you are getting your period, giving up to 6 days advanced notice. While some people get their periods on the same day each month, the majority do experience a fluctuation in the day their period starts. It seems only logical that wearables which track what is happening in our bodies, also tell us what's happening with our menstrual cycle. Oura has an excellent blog entry about this here.
SpO2 blood oxygen sensing – coming in 2022. The sensors are in the ring but will not be available until 2022. As they update the app, the sensors in the ring will activate and start sensing blood oxygen levels. An SpO2 sensor tells you how saturated your blood is with oxygen. This is useful for understanding your physical performance during exercise and also gives insights into conditions such as Sleep Apnea.
One of the major upgrades is in the app itself, which is their "Wellness Content". This is based on a subscription model wherein for $5.99 per month (ca. DKK40) users will get access to educational content including meditations, sleep sessions, breathwork exercises and content about wellness.
Should I buy it?
If you are already an Oura Ring owner, you get a discount and lifetime access to the app for free. If you're considering a first time purchase of an Oura Ring, this one definitely has all the bells and whistles.
But given that it's still under development, with new features coming out in late 2021 and early 2022, I might consider waiting a little while until there are more people who have used and reviewed it. For $299 (1923DKK) it is an investment, so it's worth careful consideration.
That being said, this is a highly scientifically researched device which focuses on accuracy, so if you want to improve your health with data based insights, this is a tool which could help you.